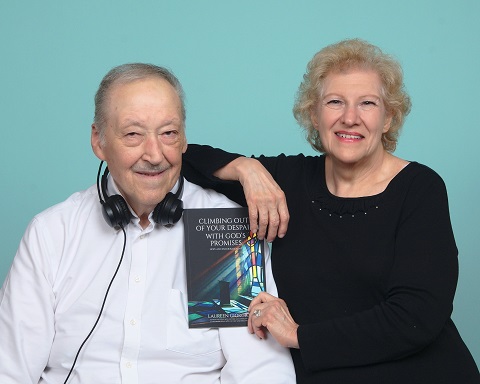 A Christian Radio podcast Tony and Laureen talk about their lives and 53 years as Husband and Wife and the Storms they encountered,and operating a Charity for 37 years and still going. And what they learned about having faith trusting God. Go to Amazon books and Kindle to learn about Laureen's first paper back book called "Climbing Out Of Your Despair with God's Promises" on sale now for the Holidays. The book is based on 10 10 minute episodes Laureen did on God's Promises. Purchase books locally at Organic Beans Coffee Co. in Maggie Valley North Carolina and Blue Ridge Book store in Waynesville North Carolina.Podcast sponsored by Teague's Grocery and Cafe' GRUHUB delivery. Stop in Maggie Valley's One Stop Shopping experience.
Episodes
Wednesday Jul 27, 2022
Wednesday Jul 27, 2022
Can You Out Swim Your Alligators?
Part 1 -No Need To Fear. Psalm 27: 1-3,5-6 AMPC
In all you are about to hear in our Podcast, let us tell you  the upside. While going for treatments we looked for people who needed hope and encouragement; doctors, nurses, patients we gave each of them a copy of Laureen's Climbing Out Of Your Despair With God's Promises. We usually carry some with us as an outreach tool.

Since December we have had our share of Alligators! most of it on the heals of the other.

1. Cataract surgery that did not turn out the way it should. and what followed was unreal.
2. Three of the family cars broke down at the same time. leaving us all with no transportation and costly to repair. Two cars where beyond repair had to be junked.

3. Came home from radiation treatments to a septic system problem.
These are just a few issues we have faced since this year started. At this writing we also have had two dear life-long friends who passed away within a few days of each other.
Download and listen to the rest of the story.
v1 The Lord is my  light and my Salvation-whom shall I fear or dread? The Lord is the refuge and stronghold of my life-of whom shall  I be afraid.
Living With Victory Radio Podcast Sponsor:

Teague's Grocery and Cafe'
130 Soco Road
Maggie Valley, NC 28751
Delivery by GRUBHUB

You can go to our Youtube channel  click the Subscribe button to get the latest Podcast when they come out.
Climbing Out Of Your Despair with God's Promises

by Laureen Giorgio
 Now available Locally at Teague's Grocery and Cafe'

Available Locally:

Organic Beans Coffee Company
3680 Soco Rd. in Maggie Valley N.C. 2875

Blue Ridge Books in Waynesville N.C.
  Barnes and Noble, Amazon/Kindle, Walmart Kobo /Rokuten ebooks, Apple books, Angus & Robertson,  Australia and many other world wide outlets.
Scan link below for  addition locations and information
Remember Laureen's Local Monthly Column in the Positively Haywood Vacinitis  Newspaper.
Contact Laureen or Tony Giorgio
livingwithvictory.org
PO Box 1982
Maggie Valley NC 28751
Living With Victory Ministries, Inc. is a 5o1(c)(3) Charity registered with the State of Florida.
Tim Hodges Voice overs, Editor, Producer.