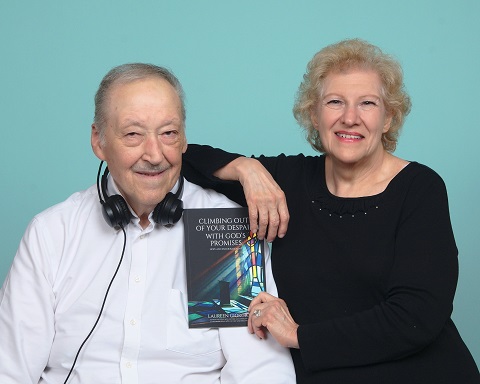 A Christian Radio podcast Tony and Laureen talk about their lives and 53 years as Husband and Wife and the Storms they encountered,and operating a Charity for 37 years and still going. And what they learned about having faith trusting God. Go to Amazon books and Kindle to learn about Laureen's first paper back book called "Climbing Out Of Your Despair with God's Promises" on sale now for the Holidays. The book is based on 10 10 minute episodes Laureen did on God's Promises. Purchase books locally at Organic Beans Coffee Co. in Maggie Valley North Carolina and Blue Ridge Book store in Waynesville North Carolina.Podcast sponsored by Teague's Grocery and Cafe' GRUHUB delivery. Stop in Maggie Valley's One Stop Shopping experience.
Episodes
Thursday Apr 14, 2022
Thursday Apr 14, 2022
U-Turns Permitted At The Cross
25:00min
Subtitle
(Climbing Out Of Your Despair With God's Promises)
Hosted by Laureen and Tony Giorgio
Based on Luke 23:38-43 AMP Classic Edition
38-
For there was also an inscription above Him
in letters of Greek and Latin and Hebrew
: This is the King of the Jews.
39-
One of the criminals who was suspended kept up a railing at Him, saying, Are You not the Christ (the Messiah)? Rescue Yourself and us [from death]!
40-
But the other one reproved him, saying, Do you not even fear God, seeing you yourself are under the same sentence of condemnation
and
suffering the same penalty?
42-
Then he said to Jesus,
Lord,
remember me when You come in Your kingly glory!
43-
And He answered him, Truly I tell you, today you shall be with Me in Paradise.
 LIFE CAN TAKE YOU IN MANY DIFFERENT
DIRECTIONS
 THERE ARE TIMES WHEN LIFE GETS SO HARD
AND YOU FIND YOURSELF MAKING THE
WRONG DECISIONS AND TAKING THE WRONG
ROADS
 THESE ROADS ALL HAVE CONSEQUENCES
SOME GOOD AND SOME BAD AND SOME SEEM
IRREVERSIBLE
 ARE YOU FEELING THAT YOU HAVE MESSED UP
YOUR LIFE SO BADLY THAT THERE IS NO
GOING BACK OR MOVING FORWARD? YOUR
STUCK!
 DO YOU FEEL THAT YOU CAN'T BE FORGIVEN.
Usually you are not permitted to make U-Turns to get back on the right road. Not so, with Jesus at the Cross Road! because we will show you through some of the U-Turns in our lives for over 55 yrs. of marriage that U-Turns are permitted and welcomed at the Cross, and you won't pay a penalty!
Living With Victory Radio Podcast Sponsor:

Teague's Grocery and Cafe'
130 Soco Road
Maggie Valley, NC 28751
Delivery by GRUBHUB

Laureen's Book Climbing Out Of Your Despair with God's Promises available locally:

 at Organic Beans Coffee Company
3680 Soco Rd. in Maggie Valley N.C. 2875 and Blue Ridge Books in Waynesville N.C.
  Barnes and Noble, Amazon/Kindle, Walmart Kobo /Rokuten ebooks, Apple books, Angus & Robertson,  Australia and many other world wide outlets.
Clink link below for  addition locations and information

     Organic Beans Coffee Company
https://books2read.com/Climbing-Out-of-Your-Despair-with-Gods-Promises-Hope-and-Encouragement
TO ALL OF OUR PODCAST FAMILY AND FRIENDS
HAPPY EASTER!
WE SERVE A LIVING GOD!
Contact Laureen or Tony Giorgio
livingwithvictory.org
PO Box 1982
Maggie Valley NC 28751
Living With Victory Ministries, Inc. is a 5o1(c)(3) Charity registered with the State of Florida.
Tim Hodges Voice overs, Editor, Producer.
Look for Laureen's Column in the April  issue of  the Positively Haywood by Vicinitus paper free Haywood County NC. Pick it up at your local Post Office in Haywood County or in your mailbox.

Living With Victory Ministries is an all Volunteer Community Outreach organization. All residuals from Climbing Out Of Your Despair will go to Living With Victory Ministries.We are a listener driven Podcasts.