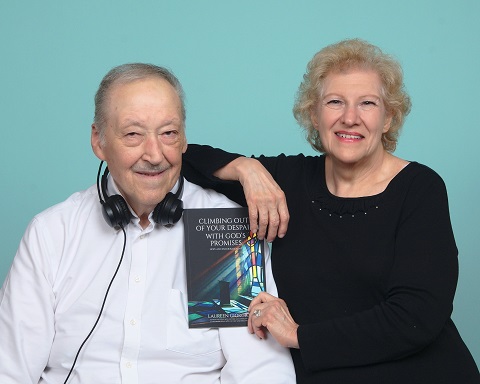 A Christian Radio podcast Tony and Laureen talk about their lives and 53 years as Husband and Wife and the Storms they encountered,and operating a Charity for 37 years and still going. And what they learned about having faith trusting God. Go to Amazon books and Kindle to learn about Laureen's first paper back book called "Climbing Out Of Your Despair with God's Promises" on sale now for the Holidays. The book is based on 10 10 minute episodes Laureen did on God's Promises. Purchase books locally at Organic Beans Coffee Co. in Maggie Valley North Carolina and Blue Ridge Book store in Waynesville North Carolina.Podcast sponsored by Teague's Grocery and Cafe' GRUHUB delivery. Stop in Maggie Valley's One Stop Shopping experience.
Episodes
Saturday May 01, 2021
Saturday May 01, 2021
From our Archives: 14:06 min

Defeat Or Victory, Laureen and Tony are discussing how we look at our circumstances. especially with the Pandemic and all that followed. How we think has a big part in determines Defeat or Victory.
When we trust God our whole way of thinking changes. We have to ask ourselves, do we really believe that God can change things?
Laureen and Tony talk about what it takes to run the ministry of 37 yrs. ( a grass roots organization all volunteer) and dealing with Laureen's breast cancer and 33 radiation treatments. within the same time frame. And how a dear friend who they had not heard from in maybe 10 years or more comes to the rescue. They had not communicated in years. But God!
Robert Vincent Sims hosts a National Radio Program called The Garden Rebel out of Orlando Fl. on WDBO AM/FM.
" I have told you these things, so that in me you may have peace.  In this world you will have trouble. But take heart! I have overcome the world." John 16:33

Sponsored by
130 Soco Rd. Maggie Valley, NC
Delivery by GRUBHUB
Free shipping in the USA. Jesus, Last Supper Gold plated coin by Leonardo Da Vinci. with a donation of $10 or more with PayPal

(Click on "PayPal" to donate. Thank You!)
Contact us.

Living With Victory Ministries, Inc.
PO Box 1982
Maggie Valley NC 28751
livingwithvictory.podbean.com
livingwithvictory.org
"A copy of the official registration and financial information may be obtained from the Division of Consumer Services by calling toll-free within the State.  Registration does not imply endorsement, approval or recommendation by the State." 1.800.HELP.FLA (435.7532)
JESUS IS YOUR UMBRELLA IN THE STORM