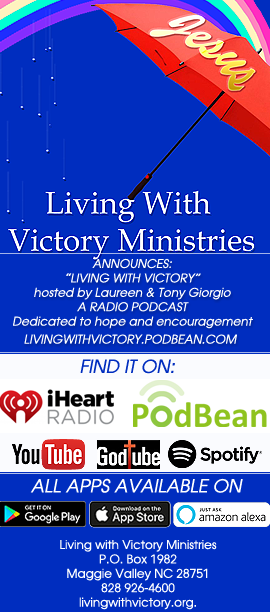 Divine Armor Part 2
As we pack for our trip to Podfest2020 in Orlando Florida, being in North Carolina battling Winter, makes us want to bring warm garments. But if we don't put on the right garments, It will not be a pleasant experience. 
How do you dress for your Spiritual Battles ?

IF YOU ARE NOT DRESSED properly FOR THE SPIRITUAL BATTLE IT WILL BE A TOUGH FIGHT.  Be prepared for battles in your life. Put on the Divine Armor. listen for assembly instructions Part 2

Sponsored by

130 Soco Rd. Maggie Valley, NC 28751
Teague's Café delivery by GRUBHUB click Side bar logo for additional information.
 
Living With Victory Ministries, Inc.
P.O. Box 1982 Maggie Valley NC 28751
Donation PayPal
Comments/Prayer Request welcome
Join us Orlando
Editor/Producer Tim Hodges -Morning Talk Show Host WPTL 101.7FM Canton, NC