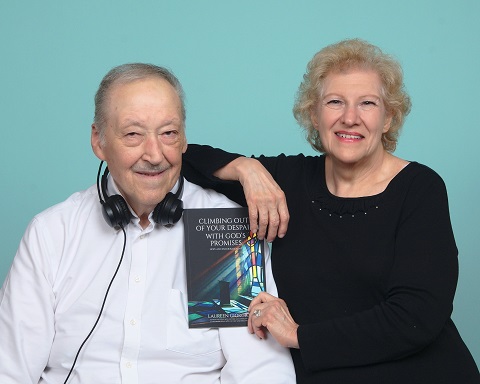 A Christian Radio podcast Tony and Laureen talk about their lives and 53 years as Husband and Wife and the Storms they encountered,and operating a Charity for 37 years and still going. And what they learned about having faith trusting God. Go to Amazon books and Kindle to learn about Laureen's first paper back book called "Climbing Out Of Your Despair with God's Promises" on sale now for the Holidays. The book is based on 10 10 minute episodes Laureen did on God's Promises. Purchase books locally at Organic Beans Coffee Co. in Maggie Valley North Carolina and Blue Ridge Book store in Waynesville North Carolina.Podcast sponsored by Teague's Grocery and Cafe' GRUHUB delivery. Stop in Maggie Valley's One Stop Shopping experience.
Episodes
Sunday Nov 28, 2021
Sunday Nov 28, 2021
Laureen gives a preview of one chapter in her book Climbing Out Of Your Despair With God's Promises. She gives a feel for what the book is about and why it is a great gift for anyone this Christmas (a great gift for under $10!)--and how we learned to climb out of our despair throughout our 54 yrs together.
Click either of the links below to order your copy!
https://books2read.com/Climbing-Out-of-Your-Despair-with-Gods-Promises-Hope-and-Encouragement (e-book)
https://www.amazon.com/gp/product/B09BT7LPFZ/ref=dbs_a_def_rwt_hsch_vapi_tpbk_p1_i0 (paperback and Kindle format)
---
All of the reviews on Amazon have a five-star rating. Here's a sample of what readers are saying:
Very good scriptural advise.
By Amazon Customer on November 24, 2021
Highly impressed with this book. The 1st chapter and 7th chapters alone are worth the book. The reader is directed to the very source of help and where to get it. From God and his written word. I love that the writer not just once but twice gives the prayer to pray for Salvation. This is a very Christ centered book and Jesus only as the way to Heaven. The writer uses just enough personal testimony to make her advice as tried, tested and true. Overall very sound Biblical truth and advise.
SPONSOR
Teague's Grocery and Cafe
130 Soco Road
Maggie Valley North Carolina 28751
Delivery by GRUBHUB
Living With Victory Ministries, Inc.
P.O.Box 1982
Maggie Valley, North Carolina 28751
livingwithvictory@gmail.com