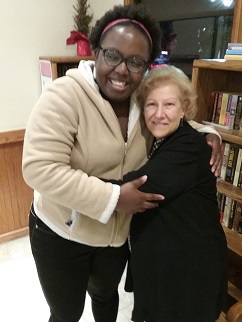 GOD'S PROMISES Episode 5 Matthew 22:37:39 2:30min.

Matthew Henry's Commentary:
We must Honor and Esteem All Men, and must wrong and injure none, and, as we have opportunity, Must Do Good to ALL. We Must Love our Neighbor As Ourselves.
 Jessica Bell, life long friend reunited on 2018 trip to Florida after 20 plus years!
"God created each of us in Every Nation.  He gave us different skin colors, language,and cultures.  In His eyes we are ALL Neighbors. We are to love one another as He Loves Us." --- Host Laureen Giorgio
We are a listener driven podcast: Donate through Paypal or www.livingwithvictory.org Email us :comments, prayer request, or for free Devotional or Book. check our website. livingwithvictory@gmail.com

Our Sponsor click on side bar logo for addition information. Lunch delivery by GRUBHUB
 Follow Us on: Facebook.Instagram.Twitter.Wordpress.com Blog "Between 2 Worlds"
Write us: Living With Victory Ministries, Inc. P.O. Box 1982 Maggie Valley, NC 28751
S

pecial thanks to Christine and Don Chamberlain,

Organic Bean Coffee Shop Maggie Valley N.C. continued support during these stormy days.

Now Open