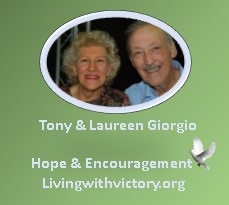 Laureen and I have found that Pressing In(Perseverance) to get your answer for problems and situations that come up in life is better than wishful thinking or the "If I only had" this or that. We will be doing a series on pressing in for what you need, from Laureen's Test of Faith CD about how her faith and pressing in helped her through 33 radiation treatments and breast cancer. through it all she leaned on Jesus Who is our umbrella in life's storms. 
SPONSORED BY: Teague's Grocery and Café 130 Soco Rd. Maggie Valley, NC 28751
Donate: Paypay
Write us at Living With Victory Ministries, Inc.
P.O. Box 1982 Maggie Valley, NC 28751
828 926-4600
Living With Victory is an Official Charity of Smile.Amazon.com 
website www.livingwithvictory.org
livingwithvictory.podbean.com
Comments welcome