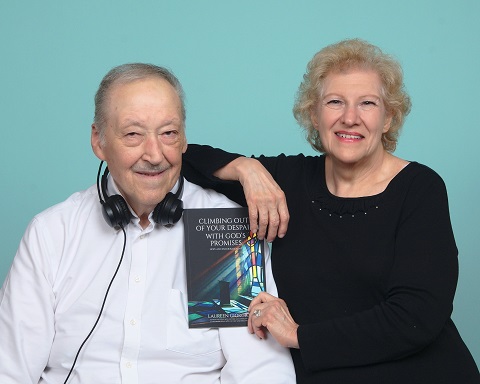 A Christian Radio podcast Tony and Laureen talk about their lives and 53 years as Husband and Wife and the Storms they encountered,and operating a Charity for 37 years and still going. And what they learned about having faith trusting God. Go to Amazon books and Kindle to learn about Laureen's first paper back book called "Climbing Out Of Your Despair with God's Promises" on sale now for the Holidays. The book is based on 10 10 minute episodes Laureen did on God's Promises. Purchase books locally at Organic Beans Coffee Co. in Maggie Valley North Carolina and Blue Ridge Book store in Waynesville North Carolina.Podcast sponsored by Teague's Grocery and Cafe' GRUHUB delivery. Stop in Maggie Valley's One Stop Shopping experience.
Episodes
Friday Dec 10, 2021
Friday Dec 10, 2021
Give [or get] a gift of hope this

CHRISTMAS!
to purchase with Mobile Device

Series 2 reading Episode 3 (chapter 3)Pg. 17

Laureen gives a preview of another chapter in her book Climbing Out Of Your Despair With God's Promises. She gives a feel for what the book is about and why it is a great gift for anyone this Christmas (a great gift for under $10!)--and how we learned to climb out of our despair throughout our 54 yrs together:
Episode 3 Pg 17- His Grace is More Than Sufficient
I will be glad and rejoice in Your mercy and steadfast love, because You have seen my affliction, You have taken note of my life's distresses.
Psalm 31:7 AMP classic edition.
WATCH FOR OUR AD DECEMBER 15th

Asheville Daily Planet
click link below for one-stop shopping for book online:
https://books2read.com/Climbing-Out-of-Your-Despair-with-Gods-Promises-Hope-and-Encouragement
What is being said:
Climbing Out Of Your Despair With God's Promises.
"It's reassuring to know that all the encouragement Laureen puts forth can be trusted to be from a sound Biblical foundation"
Jim Kirkland, Executive Director
Blue Ridge Broadcasting
Billy Graham Evangelistic Association. #Laureen

Podcast Sponsor
Teague's Grocery and Cafe
130 Soco Rd
Maggie Valley, NC 28751

Delivery via GRUBHUB
Contact Laureen and Tony
livingwithvictory.podbean.com
P.0. Box 1982
Maggie Valley,N.C. 28751
ebook and paperback platforms. Walmart Rokuten Kobo, Barnes and Noble, Amazon/kindle, Apple, Indigo Canada, Angus Robertson Australia, Mondadori Italy and more.