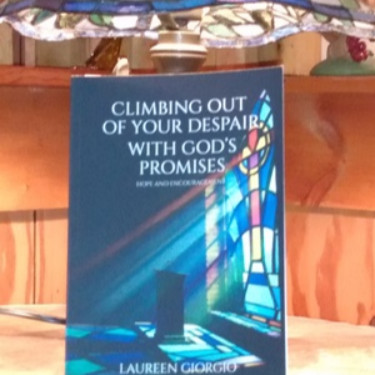 Click on title to go to Amazon/Kindle
Climbing Out Of Your Despair With God's Promises
As I wrote in the back of my book "climbing Out Of Your Despair With God's Promises" "Nothing can compare to feeling like you have been thrown into the deep dark abyss, without any light to guide you" Today many of us are asking WHERE IS HOPE?
Jeremiah 29: 11-13 
11-For I know the thoughts and plans that I have for you, says the Lord, thoughts and plans for welfare and peace and not for evil. to give you hope in your final outcome.
12 Then you will seek Me, inquire for, and require Me [as a vital necessity] and find Me when you search for Me with all your heart.

13-Then you will seek Me, and you will come and pray to Me, and I will hear and heed you.
This Episode will show you as it did us,Where Hope Is.
The Book Explains the circumstances that Tony and I were facing and how each promise brought us through. We know without a shadow of a doubt that we can trust Him because He is truth.
Hear some of the excerpts from Laureen's book in this episode.
Podcast Sponsor
130 Soco Rd. Maggie Valley NC 28751
Delivery by GRUBHUB
Response from some of our readers:
"Like a cool breeze or a full exhale, Laureen Giorgio's prayerful observations on the Living with Victory podcast are a restorative blessing among the troubles Scripture reminds us we'll endure.  It's reassuring to know that all the encouragement Laureen puts forth can be trusted to be from a sound Biblical foundation. Share copies with your friends. Each one needs hope and encouragement. So, do you, for that matter...so be sure to hold a copy for yourself!"        
Jim Kirkland
Billy Graham Evangelistic Association
Blue Ridge Broadcasting
"I am reading the book slowly, as I have uninterrupted time, because I want to absorb and reflect on what you have written so well. You have a real talent for putting words together that are easy for anyone to understand.  It is a wonderful gift from God."
Phyllis Hudson
Sanford Florida
"Climbing Out Of Your Despair With God's Promises" *****  rating on Amazon
Book signing Oct. 14th at 10:00am. Organic Beans Coffee Co. Maggie Valley North Carolina 28751.
You can purchase Laureen's book on Amazon in paper back or Kindle store, or if you are near Maggie Valley  come to the book signing the book will be available.
contact us: Living With Victory: P.O. Box 1982 Maggie Valley N.C. 28751
livingwithvictory.org