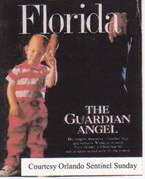 When life's storms hit whose hand are you holding. How we stayed connected to Christ.
Just a Little About us:
Photo:Cover of Orlando Sentinel Florida Sunday Magazine 1990 by Mike Thomas. Tony and Laureen Advocated for 30 years for seriously ill children who fell through the cracks for treatment throughout the United States through Compassion Children's Foundation, Inc. Now known as Living With Victory Ministries. They learned many lesson while helping families to keep connected to Jesus Christ.
Our sponsors Teague's Grocery and Café  Soco Rd. Maggie Valley NC 28751
Contact us with prayer request,or comments on our radio broadcasts.
Living With Victory Ministries, Inc.
P.O. Box 1982
Maggie Valley NC 28751
Donate:Paypal 
Website livingwithvictory.org