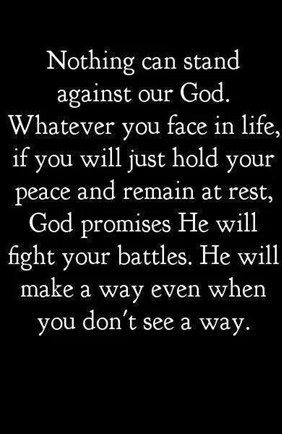 Who is In Charge of Your Battles
13:43min.
Topic based on 2 Chronicles 20:14-19   Take a few minutes to learn how The Lord helped us  fight some battles. Moved from Ft. Lauderdale Florida to Orlando. We were losing our house to foreclosure/ Getting to the court for the forclosure from Orlando to Fort Lauderdale Fl with a car you could not turn off or it would stall/ How the renter qualified by a Relator, paid with bad checks (Was wanted by the police)  He sublet our home to a stranger and took $2,000 and left town with the money! 
  Hosted by Laureen and Tony Giorgio

Sponsored by
Teague's Grocery and Cafe'
130 Soco Road Maggie Valley,North Carolina 28751
Breakfast/lunch delivery GRUBHUB
Jesus, Last Supper by Da Vinci Gold Coin Deluxe deductible year end donation of $10 or more.

free shipping in the USA. Allow 7 to 10 business days In USA
Deluxe large Jesus coin on the front and the Last Supper by Leonardo Da Vinci on the reverse side. This gold plated, deluxe coin comes in a plastic capsule. 1 1/2 inch. 
 You can make a year end Tax Deductible Donation by PayPal or mail your donation.

Living With Victory Radio Podcast  is a Listener driven Charitable Organization. Thank you for your continued support. Merry Christmas and Happy New Year to all.
We will be supplying Christmas Dinner and presents for the children to families staying at Rathbun House. Your help would be appreciated

The Rathbun House provides a home-like setting for families and caregivers who are accompanying a patient that is receiving treatment at local hospitals. The Rathbun House is a not-for-profit establishment
and is the only hospitality house in Western North Carolina.
Contact us.

Living With Victory Ministries, Inc.
PO Box 1982
Maggie Valley NC 28751
livingwithvictory.podbean.com
livingwithvictory.org
Living With Victory Ministries, Inc. is a Registered 5o1(c)(3) faith Based Charity non-denominational.

"A copy of the official registration and financial information may be obtained from the Division of Consumer Services by calling toll-free within the State.  Registration does not imply endorsement, approval or recommendation by the State." 1.800.HELP.FLA (435.7532) or www.FloridaConsumerHelp.com